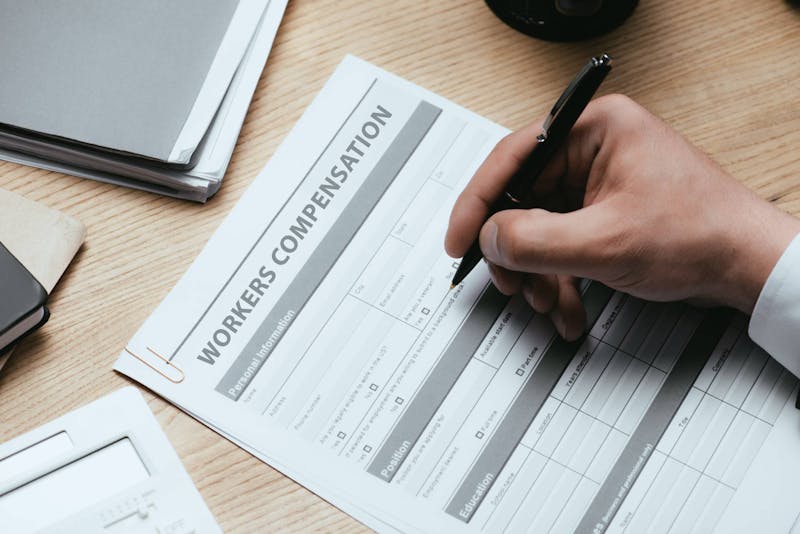 First, you may receive and be entitled to workers comp payments after a work-related injury but are extremely disappointed in the amount of money you receive. It often is substantially less than the wages that you earn on a regular weekly basis. This amount also may fall short of the amount needed for you to meet your regular financial obligations. This disappointment can be compounded if your check has been figured at the wrong amount and is even less than what you are entitled to!
In many states, workers' comp insurance companies determine your average wage by figuring your average weekly salary for approximately 13 weeks before your injury. Then your worker's comp insurance company pays you (assuming that you are completely disabled & can't work) two-thirds of your average weekly wage. If you can work at all, then other rules apply, and this could even further reduce your workers' comp check.

In numerous instances, actual mistakes can also happen. If the insurance company pays you, as the injured worker, an incorrect amount it is often due to an error by their claim representative using the wrong pay information, or a calculation error that benefits the worker's comp insurance company.
Remember that you, by being injured "on the job" are entitled to this money, and you and your family require it to possibly survive this difficult financial time.
If you feel you should be getting more money from your workers' comp, it is often very helpful to have a Tampa workers' comp lawyer immediately intervene to get your issue corrected, back pay paid, penalties awarded, and attorney's fees as well. This can add up to a lot of money, and time usually is "of the essence". You are already under enough stress, and it's extremely helpful to have an attorney fight for you on all these issues.
What If My Workers' Comp Claim is Far Too Little, or Was Denied?
Any workers' comp insurance company is still an "insurance company" and their adjuster is working for them, and not for you or your family. This is an important point to remember, and another valid, and necessary reason for having a workers' comp lawyer fight for you!
There are numerous reasons that the workers' comp insurance company contested your worker's compensation claim, such as:
Lack of Evidence – The insurance company adjuster won't just take your word for almost anything. They will have a private investigation and verify that you have a valid workers' compensation claim. Without evidence that you received medical treatment and no witness to verify that you got injured at work, you may find that they will try to deny your claim.
You Exceeded the Time Limit – You have a specific time limit to report a work-related injury to your employer. In Florida, it is usually 30 days from when the incident occurred. If your workers' comp application for compensation is late, the insurance company could leverage this to refuse or drastically reduce your payment.
There Was a Pre-Existing Injury – If you already had an injury or medical condition before the incident at work, the workers' comp adjuster will point that out. They may claim that the incident resulted from your pre-existing condition, and therefore deny your claim.
The Injury is Your Fault – Workers' compensation covers injuries that occur when you were carrying out your regular, legitimate work. If the insurance company can prove that your injury resulted from your negligence or that you were drunk or intoxicated, they can deny your claim.

These are only some of the many reasons a workers' comp claim can be denied or your compensation seriously decreased. Your workers' comp lawyer has the experience in these cases to successfully fight for you and get you what you are entitled to.
What Can I Do If My Workers' Comp Check is Late?
Just because you are receiving workers' comp checks, doesn't mean you are at the complete mercy of the insurance company that is required to pay you. What you certainly may not know is that if the insurance company owes you money and doesn't pay on time, then you may be entitled to a penalty. Simply put, if you don't get your check on time, the insurance company may owe you specific penalty money. These penalties are specifically designed to assist you financially when the insurance company fails to pay you on time.
Also, know that this penalty imposed on the workers' comp insurance company can be severe, and be of help. This is another commonly overlooked point that your local Tampa workers' comp lawyer will be sure not to miss.
Are There Benefits I May Not be Aware Of, and What Should I Do to Get What I'm Entitled to?
The length of time you receive benefits, the amount you receive, and any contingent benefits are usually based on the severity of the injury you incurred. So, you begin to see that a workers' comp case is not quite as legally simple as you may have thought.

If you were not severely injured, then your benefits may only be needed for weeks or a few months. However, if you've been catastrophically injured, then it's an entirely different matter.
You may be entitled to other benefits to help you though, such as these and more:
Medical benefits – Workers' comp pays for all medical care that's necessary to treat a work-related injury or illness if your treatment is prescribed and authorized by the insurance company.
Vocational rehabilitation – If you can't return to your normal job, you may receive placement services, vocational counseling, and other help to find new employment.
Death Benefits – When an employee dies because of a work-related injury or illness, the worker's spouse, children, or other dependent relatives may receive death benefits. There are many more items that can be of help, and your Tampa workers' comp lawyer will help let you know exactly what you are entitled to.
I'm Having Problems with My Workers' Comp Check, What Should I Do First?
Getting problems resolved with workers' comp is usually difficult, for decades the workers' comp lawyers at Carlson, Meissner, Hart, & Hayslett have been fighting for the benefits that you, and your family, deserve. Consult with them first, and make sure your problems are resolved as quickly and successfully as possible.