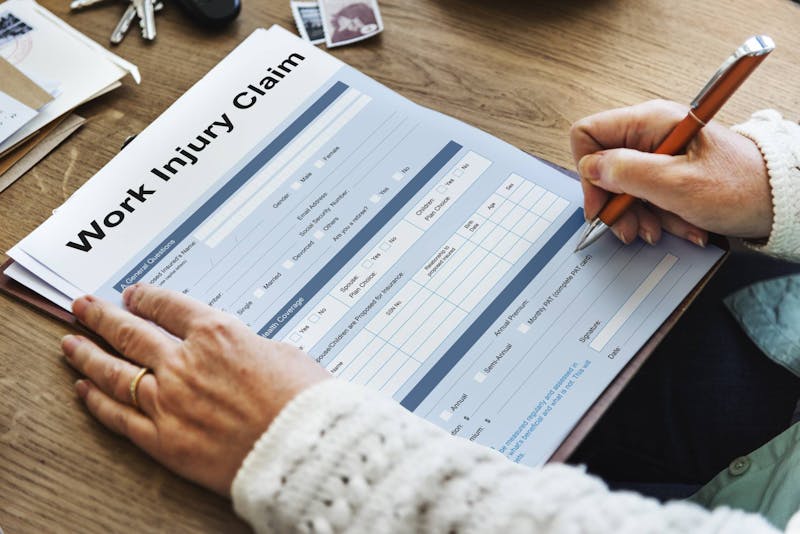 A work injury is one traumatic experience because, while you deal with the pain, you also have to worry about possible lost wages and medical bills. Florida's compensation system is designed to help workers when injured, but the insurance companies sometimes deny these claims.
Tampa Bay criminal and injury attorneys can inform you what is covered and what is not. Remember, insurers sometimes refuse to cover certain aspects of a worker's injuries, but several avenues exist to appeal. Some grounds for denial might be valid, but others are unfair and might not hold water.
Can Inadequate Medical Evidence Deny a Worker Compensation?
Insurance companies must evaluate your medical evidence before approving or denying your claim in Florida. They might need:
Documentation from a doctor
Test results
Medical records

Medical evidence can show the possible cause of injuries and how serious they were. So, after an analysis, the company can refuse to cover a worker if they consider the injuries not work-related or not serious enough.
What Types of Workers' Injuries Are Not Covered in Florida?
The workers' comp can only cover you for deaths, illnesses, and injuries arising in employment. According to Florida Statute 440.02, you might not receive compensation for:
Mental anguish caused by job-related stress
Deliberately trying to injure or kill another person or yourself
Injuries caused by intoxication or drugs not prescribed by a physician
Injuries sustained on your way to or from work
Injuries you get during your lunch break
Injuries resulting from failure to follow company procedures
If unsure of whether your injuries are covered or not, consult with Tampa workers' compensation lawyers. They could examine the circumstances related to your injuries and advise you on whether you are eligible for damages or not.
Does a Pre-Existing Condition Bar Me from Compensation?
The subject of pre-existing conditions can be complex in workers' compensation matters. Pre-existing conditions are usually not covered, but issues crop up when an accident intensifies it. Insurance companies would sometimes allege that the pre-existing condition contributed to the accident to avoid a payout.

Workers should prepare to prove that their pre-existing conditions in the workers' comp had nothing to do with the accident. Past medical records could be the ultimate evidence, alongside medical expert testimonies.
Are Claims Submitted Late Covered?
You might have a valid workers' compensation claim, but it could be denied for a late submission. Paperwork on work-related injuries must be presented to your employer within 30 days from the date of the injury.
The letter should notify them of your injuries and include notes by your physician. Failure to notify the employer can deny you compensation unless:
Exceptional circumstances prevented you from reporting on time
You had no medical opinion on the cause of injury within that time
The employer had a clear knowledge of the illness or injury
If you fail to report a condition or injury to your employer in 30 days, it is not always lost. A skilled Tampa workers' compensation attorney can evaluate your situation to see if it qualifies for a timeline exception in Florida.
Will a Worker Get Compensation with No Eye Witnesses?
While eyewitnesses are integral to the success of a workers' compensation claim, lack of them might not mean that your case is doomed. It could only mean that the case will only rely on your account of the incident and medical records.
You will have to make the rest of the evidence robust in such cases. Experienced workers' compensation lawyers in Tampa Bay can work with you in building a case that will successfully go through the criminal justice system, even without witness testimonies.
Is There a Remedy for Denied Claims?
A denial of a workers' compensation claim should not discourage you in Florida. For instance, more than 25,000 claims were not approved in 2018. But out of the denied cases, 10,891 of them were approved after an appeal.

You can appeal the denial within two years from the date of the accident. Workers can also appeal for medical treatment within a year, but the clock begins ticking from the last day of receiving treatment or the day the last benefit payment was paid.
What is the Appeal Process for Denied Benefits?
Workers can appeal a denied claim through Florida's Employer Assistance and Ombudsman (EAO) Office. The EAO might try resolving the dispute with the insurance company. If they aren't successful, you might have to file a petition with the Offices of Judges of Compensation Claims (OJCC).
In 40 days, the OJCC ought to have scheduled a meeting between you and the insurance company responsible for your workers' compensation. A hearing might follow if you fail to agree during the mediation sessions. And if you disagree with the judge's decision, you might want to appeal with the First District Court of Appeal.
Why Do I Need an Attorney for My Workers' Comp Disputes?
Workers' compensation disputes are real and should not be taken lightly. Seasoned Tampa workers' compensation lawyers can take the stress away from the process with their in-depth understanding of Florida's various laws and rules. It might also take a shorter period than it would if you had to navigate it alone.

Likewise, working with an experienced personal injury attorney in Tampa increases the chances of a successful workers' compensation case and full benefits. We will represent you at mediation sessions and safeguard your best interests. And if an appeal is necessary, our Tampa injury lawyer can help you file in the right way.
Attorneys Providing a Voice and Fighting for You
Your injuries might or might not be on the list of those not covered by workers' compensation. But if you are not sure, you might embark on a losing battle with insurance companies in Florida. You can get rid of all the uncertainties by consulting with a qualified Tampa attorney.
They can tell you whether you are covered or not. If you qualify for workers' compensation, they can represent you and fight until you are compensated in full. Give us a call today to discuss your options.