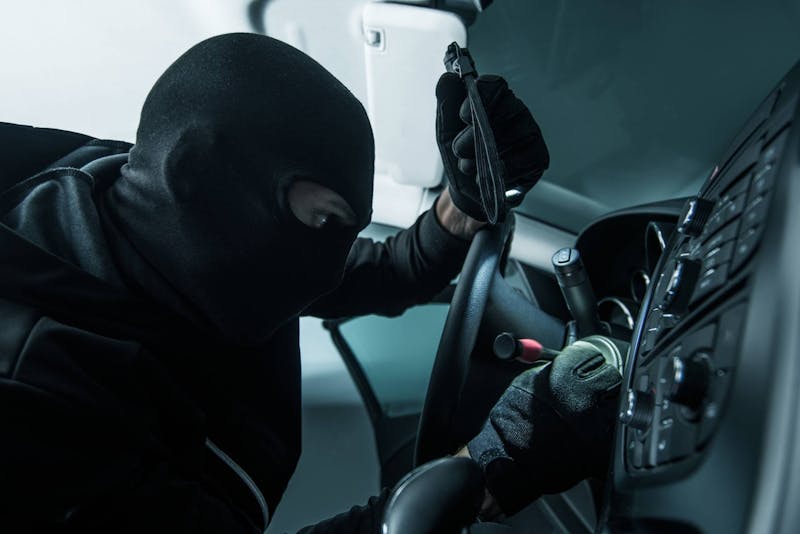 The term "grand theft auto" is often associated with a popular video game, but it also refers to a criminal offense in the state of Florida. As its name suggests, grand theft auto is the crime of illegally stealing someone else's motor vehicle. This crime is taken very seriously in Florida, which is why authorities in this state aggressively prosecute those who are accused of committing it.

What constitutes grand theft auto in Tampa? What are the penalties for a grand theft auto conviction? How can a Tampa criminal defense attorney help you fight grand theft auto charges? Keep reading to learn the answers to these questions and more.
What Constitutes Grand Theft Auto in Florida?
Each state has its own laws regarding grand theft auto. In Florida, grand theft auto is defined as committing the theft of a motor vehicle. "Theft" is defined as knowingly obtaining or using, or trying to obtain or use, someone else's property with the intent to either temporarily or permanently:
Deprive the rightful owner the right to the property or the benefit of using the property.
Using the property or allowing someone else to use the property who is not authorized to do so.
If you engage in behavior that meets these conditions, it is considered theft. If the property involved in your crime is a motor vehicle, it is considered grand theft auto.
What's the Difference Between Carjacking and Grand Theft Auto?
It's important to note that carjacking and grand theft auto are two different crimes in Florida. Both of these crimes involve the unlawful taking of a motor vehicle, however one is far more serious than the other.
Carjacking is a robbery crime. A person commits carjacking by using force, violence, or threats to unlawfully take a motor vehicle from someone with the intent to permanently or temporarily deprive them of the vehicle. This is similar to grand theft auto, but it involves the use of force, violence, or threats, whereas grand theft auto does not.
For example, if you physically pull someone out of their vehicle in order to steal it from them, this would be considered carjacking. But if you steal someone's vehicle after noticing that they left their keys in their unoccupied vehicle's ignition, this would be grand theft auto since no force, violence, or threats were involved in the commission of the crime.

Carjacking is a first degree felony crime in Florida. If you are convicted of carjacking, you could face up to 30 years in prison. However, if you were in possession of a firearm or other deadly weapon while committing carjacking, you could face life in prison if convicted.
What Are the Penalties For Grand Theft Auto?
There are three degrees of grand theft crimes in the state of Florida. The theft of a motor vehicle is third degree grand theft, which is the least serious of the three degrees. However, this does not mean that grand theft auto charges should be taken lightly.
A third degree felony is punishable by up to five years in prison in addition to $5,000 in fines. These are some of the many penalties you could face if you are convicted of grand theft auto in this state.
Most grand theft auto crimes are third degree felonies. However, you could face first degree or second degree felony charges for grand theft auto. The charges you will face will depend on the value of the vehicle.

For example, if you steal a motor vehicle that is valued at more than $20,000, the crime is considered second degree grand theft, which is a second degree felony. This crime is punishable by up to 15 years in prison and $10,000 in fines.
How Can An Attorney Fight Grand Theft Auto Charges?
Don't assume that you will be convicted simply because you have been charged with grand theft auto. It is possible to fight grand theft auto charges with the help of an experienced criminal defense attorney. In fact, fighting these charges is the only way you can avoid all or some of the penalties of a conviction.
Some of the defense strategies that are commonly used in grand theft auto cases include:
Lack of intent: The state will need to prove your intent in order to convict you of grand theft auto. If you can prove you did not have the intent to commit theft, you may be able to avoid a conviction.
Misunderstanding: This strategy involves showing that you thought you had the legal right to take possession of the motor vehicle, so you were not aware that you were committing a crime. For example, this strategy may be appropriate if you thought the owner gave you permission to use the vehicle.
Misidentification: This strategy involves showing that you were misidentified by an eyewitness.

These are some of the many strategies that your attorney may consider when building a defense in your grand theft auto case. The strategy that your attorney will use will depend on the details of your case. Your attorney will need to learn more about your case before determining the most effective strategy to use to fight your charges.
Set Up A Free Consultation With Our Criminal Defense Attorneys Today
Have you been charged with grand theft for allegedly stealing a motor vehicle? These are serious charges, which is why you shouldn't face them alone. Turn to the skilled criminal defense attorneys at Carlson Meissner Hart & Hayslett as soon as possible for legal guidance and advice.
Since 1971, our attorneys have been helping the accused fight for their freedom. Let us put our extensive legal experience and resources to work for you. We will work tirelessly to help you reach the best possible outcome in your case. Call our law firm now to schedule a free consultation with us today.