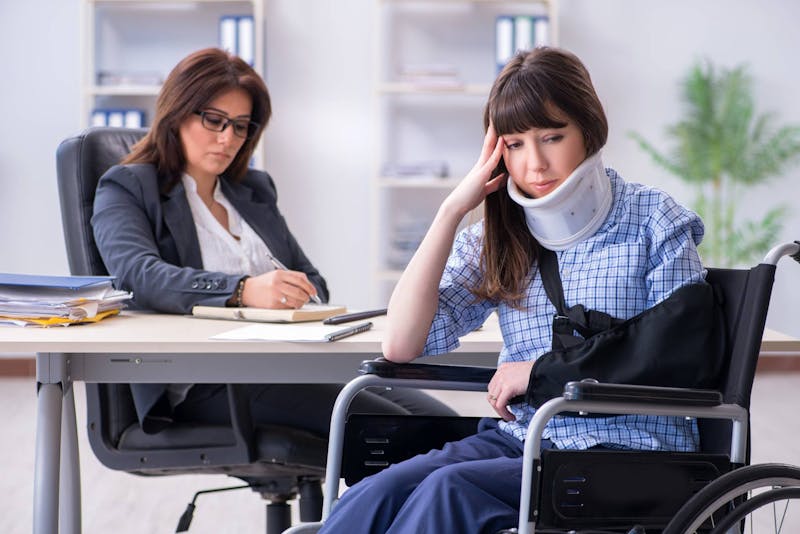 If you have been injured at work and filed a workers' comp claim, it can be extremely difficult to know what to do next. Especially if you have been told that you can't perform your previous job due to the injury.
In most all workers' compensation cases, everything rests on the opinion of your medical provider. Whether or not you receive any benefits all depends on whether the doctor says you can return to work and, if so, when, and exactly what restrictions you have either temporarily or permanently.

There are essentially three types of doctors you would see after a workers' comp claim or an outside injury: an authorized treating physician (selected by an insurance company), either party's one-time expert (an independent medical examiner), and a court-appointed expert known as an expert medical advisor.
Your treating physician will provide their specific opinions about your condition, whether it's related to your accident, exactly what treatment you need, and whether you can return to work or perform your previous job.
After you have been examined, the doctor will decide on whether:
You cannot return to work now but provide a possible time frame.
You can return to work, but only on light duty for a period.
You can return to work with no restrictions at all, and when.
Or your injuries will prevent you from performing your previous job duties at all.
You usually will be eager to get back to your daily life (and income), and the idea that you can't return to work after your injury may come as a huge shock. It's important, however, that you follow the right steps so you can recover and receive the full benefits you're entitled to both by your employer and disability if deemed necessary.
It is important to note, however, that there are negative consequences to not following the opinions of your authorized doctors regarding your ability to work and/or your right to workers comp or any other type of compensation.
What Are Some of the Things I can Expect If I Can't Return to Work or Can't Perform My Previous Job?
If you haven't been fully cleared to return to work after an injury, it's important to know what to expect regarding your duties, restrictions, and workers' compensation benefits, or other types of disability compensation.
You may be able to return to your previous job but be put on "light duty" for a period.
In many cases, your treating physician may be able to clear you for "light work duty." This might mean that, while you will be unable to lift heavy boxes or drive a forklift, you can perform desk work or remain on your feet for only part of the day. This is highly variable, as some jobs require strenuous physical work, light physical work, or hardly any at all. You and your Tampa Bay personal injury attorney will make sure you receive both the benefits and the rights you're entitled to.

If your employer can accommodate these specific restrictions, you usually must take the job they have available at the usual pay rate for that position. Depending on what you have been earning. You also may qualify for temporary partial disability (TPD) benefits, which are calculated based on your average weekly wages (AWW) over the 13 weeks preceding the accident.
However, if your employer is not able to accommodate your doctor's prescribed work restrictions, you still may be able to stay at home to recuperate and receive a portion of your wages.
Please remember, there are many types of injuries on the job, and off, any of which can stop you from performing the duties involved in your present career. By consulting with your personal injury lawyer that also practices Social Security disability law, and worker's comp law you can be assured you have all your bases covered and get the financial and medical help you need and deserve.
What If My Injuries Are So Severe That I May Never Be Able to Return to My Previous Job?
Sometimes, your accident is so severe that you may be unable to fully recover from it.
In cases such as this, your medical team may determine that you have reached your Maximum Medical Improvement (MMI). This means that further recovery or lasting improvement to an injury can no longer reasonably be anticipated.
This does not usually mean you no longer need any continued or ongoing treatment. As an example, you may need treatment to maintain your level, but you cannot ever be able to improve your level of recovery.

When MMI is reached, your doctor will assign you a permanent impairment rating (PIR). Your PIR is the percentage of your body with a permanent injury. Once again, depending on how, where, and your type of injury, etc., you and your personal injury lawyer can determine the best path to financially maintain you and your family, and give you the best quality of life possible.
So, What Simple Conclusions Can be Made If I Cannot Return to My Previous Job After My Injury?
If your treating physician(s) has determined that you can't return to work or your previous career after an injury, it is always advisable that you follow their medical instructions to the letter. With many accidents (at work or otherwise), you might not notice your physical damage right away. Returning to work after an injury could exacerbate your injuries and waste the precious time needed to file a workers' comp, personal injury, or disability claim.

Meanwhile, an injury that forces you to discontinue a job that you may have done for years, is a life-changing situation. Many forms of compensation for living and medical expenses, such as workers' comp, Social Security disability, state or federal benefits may be available to you, but how do you know where to look.
Your personal injury lawyer versed in the various types of state, federal, workers, and personal injury benefits will negotiate this path with you and your family and obtain the help you need and rightfully deserve.
I Have Been Injured and Cannot Return to My Field of Work, What Should I do First?
The Tampa Bay firm of Carlson, Meissner, Hart & Hayslett has been fighting successfully for their injured clients since 1971. Their victories include workers comp, personal injury, Social Security disability cases, and many more. Consult with them, and let them help you, and your family return to a prosperous and meaningful future.