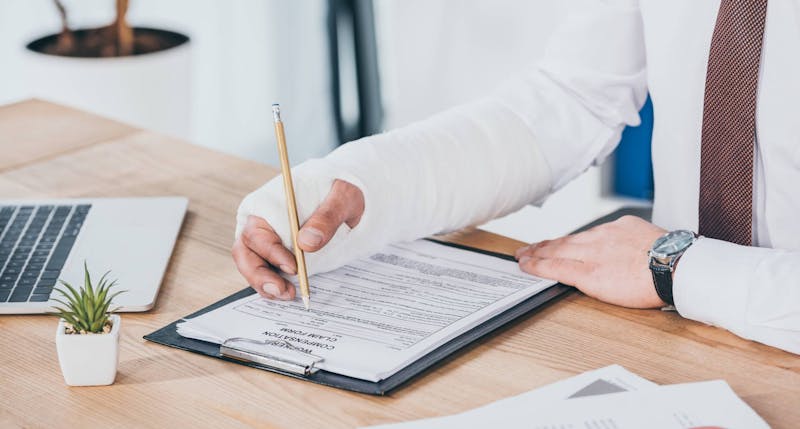 If you've been injured at work, you are solely responsible for reporting your injury to obtain the financial help you may need to be treated effectively and recover fully. Filing for workers' comp, however, can be a complicated legal process. When mistakes are made in filing, you could receive fewer benefits than you require, or just simply be denied your claim.
There are many common mistakes that you may make when filing on your own, but an experienced workers' comp lawyer will make sure you avoid them.
Some examples of these mistakes are:
Not reporting your accident – Reporting your accident, and injury, in writing to your employer is critical. This needs to be done as soon as it occurs. Follow your employer's policies for reporting and responding to worksite accidents correctly, and make sure your supervisor or human resources receives it directly.
Failing to be accurate and timely with your filing – Workers' compensation claims require specific forms that must be complete and exactly accurate. You must also submit them within a specific amount of time after your injury occurs. Simply filing late may stop you from receiving your benefits.
Not fully explain the details of your accident to your medical team or healthcare provider – Most benefits will be based on these records, along with the report made at the scene. Make sure your doctor and all your medical team know all about your injury, and how it impacted you.
Not following your doctors, or medical teams' orders – Workers' comp benefits are meant to assist you to recover. Consequently, if you are doing things that hamper your recovery, your benefits may be denied or discontinued. Follow your medical treatment thoroughly, so you don't fall into this trap.
Get a second opinion – As an injured worker, you must see the doctors your employers send you to, but you should make sure to also see your doctor. Your private physician knows you, your medical background, and your history. If your employer's doctor says you can return to work before you have fully recovered, your private doctor may not agree and suggest otherwise.
Returning to work too soon, or not looking for work – Your workers' comp benefits cost the insurance company money. To cut their costs, they may pressure employers to find any type of work that, even while injured, you can do. Make sure that you don't do anything until you have recovered to the point that you are capable of working. If you are partially disabled, however, you may be obligated to look for and accept work you can do.
Not consulting or hiring a professional workers' comp lawyer – By consulting and retaining a Tampa workers' comp lawyer, even if it's just for filing and obtaining benefits, the outcome will benefit you greatly. Remember, the insurance company has numerous lawyers, and they don't have your best interests in mind! Your workers' comp lawyer will work for you, and make sure you get the compensation you need to recover and get on with your life.
What May Disqualify You From Receiving Workers' Comp?
Workers' comp insurers may deny your workers' compensation claims if your companies' statements and yours don't coincide or are inconsistent. If your supervisor says that the accident happened with one story, but you tell your medical team it happened another way, this will most certainly hurt your case and give the insurers a reason to deny your claim.
This is an area where your workers' comp lawyer's advice, working solely on your behalf, will be invaluable. Your lawyer will more effectively be able to successfully rebuff the reasons for you being denied, such as:
Your injury wasn't witnessed.
You didn't report it immediately.
There are discrepancies between your accident report and medical records.
Your medical report shows the presence of illegal drugs in your system.
You refused to give the insurer a recorded statement or refused to sign medical authorizations.
Don't let the insurance company use minor inconsistencies to deny your claim but allow your workers' comp lawyer to use their experience to help minimize, mitigate, or explain them successfully.
Would My Employer Fight My Workers' Comp Claim & Why?
Even knowing that your workers' comp claim is completely legitimate, your employer may fight it because they are concerned that expensive claims could increase their insurance premiums and they want to discourage other injured employees from filing.
They may also wish to protect their company's image. If you've suffered a significant injury or are permanently disabled due to unsafe working conditions, this information could have an extremely negative effect on the public perceptions of the company.
Your employer may even go as far as to claim that you were not injured. Employers may be particularly suspicious of workers' compensation claims for injuries caused by repetitive motion, and your employer may dispute the claim and argue that your pain is not as severe as you claim.
There are many reasons employers fight workers' comp claims, but when you are injured at work, you have the right to file a workers' comp claim. You should be entitled to benefits to cover your medical bills and even lost income. Getting the professional assistance of a Tampa workers comp lawyer will make the legal process smoother, and help you get the benefits you legally deserve.
What Should I Avoid Saying At the Scene or To The Doctor?
It is always in your best interests, to tell the truth as best you can. Insurance company lawyers look for certain things that may help their case, not yours.
Such as:
Don't exaggerate symptoms – Don't underestimate them either and just make sure your symptoms don't go unnoticed.
Don't talk negatively about your company – Don't be rude, difficult, and disrespectful about your employer.
Above All don't Lie – This is never advisable, nor in your best interests, and if found out, could end up causing you dire consequences.
I Do Need To File a Workers' Comp Case, How Should I Proceed?
Always receive the immediate medical attention you need, as nothing is more important than your health. Then don't fall into the trap of filing your workers' comp on your own.
The Tampa-based firm of Carlson, Meissner, Hart, and Hayslett has decades of experience providing a voice for those who need it most. Receive consultation and make sure you, and your family, get the compensation you need to recover and rightfully deserve.