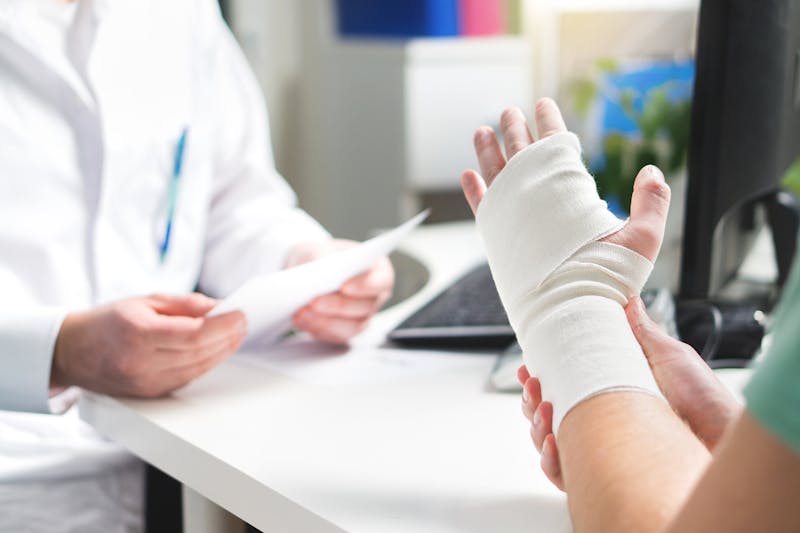 If you are injured at work in Florida, can you receive workers' compensation? Will you need help from a Tampa workers' compensation attorney? What benefits are provided? What should working people in Florida know about worker's comp and job-related injuries?
Every year across Florida, thousands suffer serious job-related injuries. A job-related injury can severely impair your health and disrupt your career and your family. In fact, a disabling or catastrophic injury could put you permanently out of work. It happens far too frequently.
You don't need to do dangerous work to be hurt on the job. Office workers often suffer burn injuries, back injuries, and injuries sustained by tripping or slipping. Safety at the workplace is every employee's concern, because anyone may be abruptly, accidentally, and seriously injured.
What Benefits Are Offered Through Workers' Compensation?
The workers' compensation system in Florida compensates injured employees for part of their lost wages, but this compensation is limited. Hinging on the extent and nature of a workplace injury, the workers' compensation system may provide these benefits:
Temporary partial disability
Temporary total disability
Permanent total disability
Permanent impairment
Additional benefits may cover vocational retraining, mileage, and funeral and death benefits if an injury at the workplace is fatal.
How Do Temporary Total Disability Payments Work?
Workers' compensation in Florida makes temporary total disability payments to injured workers who cannot work temporarily. An employee's first seven days absent aren't immediately compensated, but when 21 days or more are required, the initial seven will be paid retroactively.
Temporary total disability payments are available for 104 weeks or until the injured employee reaches the level called "maximum medical improvement" – meaning that the injured worker's medical condition will not improve further.
Temporary total disability payments are usually for two-thirds of a worker's average weekly wage, but those payments may not exceed a cap established under Florida law. For injuries sustained in 2020, that maximum payment amount is $971 a week.
Victims of the most catastrophic injuries – resulting in paralysis or blindness, for example – are paid four-fifths of their average weekly wage instead of the two-thirds rate over the first 6 months.
How Do Temporary Partial Disability Payments Work?
In Florida, the workers' compensation system provides temporary partial disability payments to workers who are authorized to return to their employment but can't yet earn 80 percent or more of their average regular earnings.
The amount paid for temporary partial disability benefits is determined by a complicated formula. It's four-fifths of the difference between 80 percent of the average wage and a worker's post-injury earnings upon returning to work.
The important thing to understand regarding temporary partial disability payments is that you don't receive much.
How Do Permanent Total Disability Payments Work?
Once an injured employee's medical treatment has concluded, the employee may be examined to determine if he or she is permanently disabled. Employees who suffer permanent and total disability may qualify for weekly workers' compensation payments for life.
Catastrophic injuries like a severe brain injury or an arm or leg amputation may qualify an employee to receive permanent total disability payments. These payments are for two-thirds of a worker's average weekly earnings, with the same cap as temporary total disability payments.
How Do Permanent Impairment Payments Work?
If a permanent impairment is the result of a job-related injury, a doctor will designate a "permanent impairment rating" to the patient. The rating pinpoints a percentage figure that is used to calculate a worker's permanent impairment payments. It's another complicated formula.
A permanent impairment payment is for three-quarters of the temporary total disability payment rate. A worker who received temporary total disability payments for $800 weekly receives $600 each week for permanent impairment payments.
If that worker returns to the employer in any role, permanent impairment payments are decreased, and the figure that the employee is paid will be determined by the permanent impairment rating. What is certain is that amount isn't much.
If You're Injured on the Job, Take These Steps
Should you sustain an injury on the job, report it to your employer at once. Otherwise, if you require workers' compensation benefits, your claim could be challenged by either your employer or by your employer's workers' comp insurance company.
Have a healthcare professional examine you immediately, and obtain the full medical treatment you need. Two leading reasons for the denial of workers' compensation claims are a failure to report an injury promptly and a failure to seek medical treatment promptly.
Are There Other Worker's Compensation Benefits?
If you're injured on the job, after you've had a medical exam, arrange to meet with a Tampa Bay workers' compensation attorney. The right attorney will fight aggressively for the full benefits you need and deserve. The workers' compensation system in Florida also offers these benefits:
Vocational rehabilitation: Injured employees who can't go back to their old jobs may qualify for vocational counseling, job training, and placement assistance.
Mileage: Workers' compensation pays for mileage to and from medical appointments.
Funeral and burial expenses: Surviving family members can be paid death benefits if a workplace injury results in a death; how much depends on how many family members must be considered. A family can also be paid as much as $7,500 for funeral costs.
Most Injured Workers Qualify Automatically
Many injured and disabled working people in Florida depend on their workers' compensation benefits, but workers' comp only pays a percentage of someone's lost earnings – and nothing for pain or suffering.
On the positive side, worker's compensation usually makes benefit payments quickly, and injured workers qualify automatically, without having to file a lawsuit or prove that anyone was guilty of negligence.
How A Workers' Comp Lawyer Will Work for You
The right workers' comp attorney can make sure that you don't miss any deadlines and that there are no mistakes or misunderstandings that could delay your workers' compensation benefit payments.
If your claim for workers' comp benefits has been rejected, the right attorney can help you appeal that decision. If you suffer a job-related injury and you have not yet applied for workers' comp benefits, speak to a workers' compensation lawyer about helping with your initial claim.
That way, you can know that your application for workers' comp benefits is complete and accurate, and if it's rejected, you already have an attorney who is familiar with your case.
A good lawyer's help from the start ensures that, if you are eligible, you will receive your workers' compensation payments as quickly as possible.