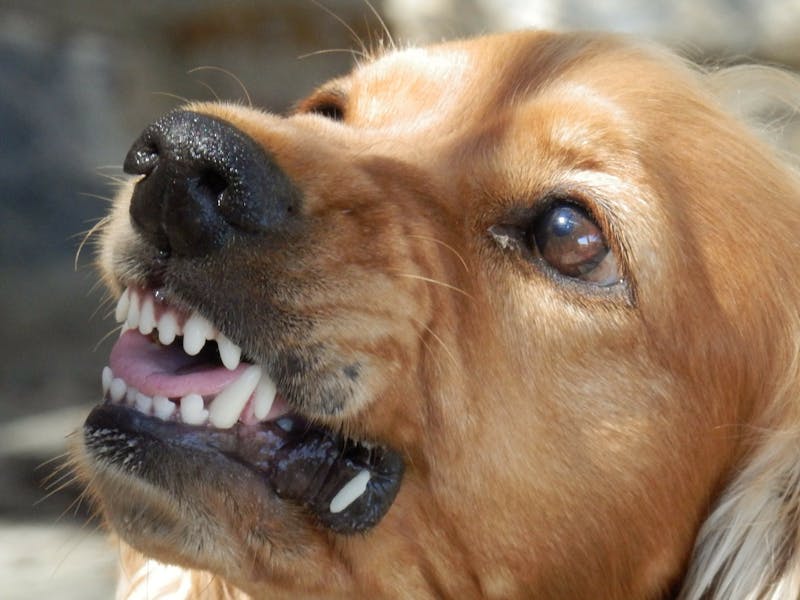 In the Tampa Bay area, if a dog bites you, seek medical attention immediately, and then schedule a meeting with a Tampa Bay personal injury attorney who can explain your rights and options.
An aggressive dog must be handled properly. The owner, in many cases, may be held liable if a dog bites and injures someone, even if the owner intended no harm and did not know the dog was aggressive.
What are a dog bite victim's legal rights in Florida? If you are the victim, can you pursue a personal injury claim and win damages from the dog's owner? What are the dog bite laws in Florida?
If you'll continue reading, you will learn more about how liability for a dog bite is determined, and you will also learn more about the rights of dog bite victims and their families in this state.
What Can Happen When a Dog Bites You?
Dogs have surprisingly strong teeth and jaws. When a dog bites a human, the bite may cause a substantial loss of blood and/or a severe injury. If you are injured by a dog, Florida law entitles you to compensation for your medical costs, lost wages, pain, suffering, and related damages.

Dog bites cause wounds, gashes, disfigurement, and tendon, muscle, and nerve damage. Some bites lead to strep and staph infections. Each year in this country, more than four million bites are reported. Dog bites were responsible for thirty-six fatalities in the United States in 2018.
Small children suffer the most dog bites. The second-largest victim group is the elderly. Regaining one's health after a dog bite may take weeks or months and require multiple surgeries and lengthy therapy.
If a dog bite victim shows rabies symptoms, or if a biting dog cannot be found, a vaccination for rabies may be ordered by a doctor. Dog bites can also cause long-lasting psychological damage, especially for children.
What Are Florida's Dog Bite Laws?
The law for dog bites in Florida is called "strict liability," which means that a dog owner is "strictly" liable for any injuries arising from a dog bite provided that the victim was in a public setting or legally in a private setting when the incident occurred.
If you're a victim, strict liability allows you to hold a dog owner liable for your injuries, even though the owner may have had no prior warning or knowledge that the animal might bite someone.

It also means that you don't have the prove that a dog owner was negligent or that the owner committed a specific act of negligence in order for you to pursue an injury claim against the owner. To prevail with a strict liability claim, the victim of a dog bite has only to prove that:
The dog wasn't provoked.
The victim was not trespassing.
How is a Dog Bite Claim Resolved?
If a Tampa personal injury lawyer can prove your claim, the dog owner may settle with you – or the owner may be held liable by a jury – and you'll be compensated for medical costs, lost income, personal pain and suffering, and any other injury-related damages and losses.
If you are bitten by a dog anywhere in the greater Tampa Bay area, after you've received medical treatment, let a personal injury attorney review your case to ascertain whether you have a personal injury claim and if the dog's owner may have liability.
If you bring a claim against a dog's owner, the claim will likely be settled privately when the lawyers for both parties meet out-of-court to negotiate a settlement. Dog bite claims are seldom heard in a courtroom.
How Do Dog Owners Dispute Injury Claims?
But if no acceptable settlement is offered in the out-of-court negotiations, and your dog bite case turns into a trial, the owner may contend that:
The victim was a trespasser.
The animal was provoked by the victim.
The animal perceived a threat and was defending its owner or another person.

If you were bitten while you trespassed on private property, provoked the dog, or committed a crime, you'll probably not be able to take legal action or obtain any compensation from the dog owner.
What Are the Signs That a Dog is About to Bite?
Frequently – although not always – you can tell that an aggressive dog is ready to bite. Knowing these signals may prevent a serious injury. A dog may growl threateningly, bark angrily, or bare its teeth before biting. A dog's body may go rigid, with hackles standing on the neck and back.
However, not all dogs communicate these signals just before biting someone. Teach these rules to your children, and remember the rules should you come upon a strange dog:
Don't attempt to pet or touch the dog.
Don't approach the animal or make eye contact.
Do not scream, yell, or run. Stay quiet and still.
When is Negligence a Factor?
In Florida, the strict liability rule only covers dog bites. If someone's dog or other pet causes some other injury – let's say a large dog knocks you over – you may still file a personal injury claim on the basis of the owner's negligence.
To prevail in these cases, your Florida personal injury attorney must prove the animal's owner acted negligently – for instance, by not putting the dog on a leash – and must prove that the negligence directly caused a personal injury.

Florida's statute of limitations in these cases gives the injured victims of negligence up to four years to initiate an injury claim. Don't wait four years, or even four weeks. Your dog bite case should be in your attorney's hands as soon as possible.
How Much Will Justice Cost?
At your first meeting, a Tampa Bay personal injury attorney will discuss the details of your claim and offer personalized legal advice about how to move forward. For injured dog bite victims, there's no obligation or fee for your initial legal consultation.
Florida's injury lawyers work on a contingent fee basis, so you'll pay no lawyer's fee unless and until your lawyer obtains an out-of-court settlement or a jury verdict on your behalf. This means that every injured victim of negligence can afford an attorney and can afford to seek justice.
In Florida, the victims of dog bites – and other injured victims of negligence – are entitled to damages for medical costs, lost income, pain, suffering, and all related losses. If you become a dog bite victim in this state, the law will be on your side.