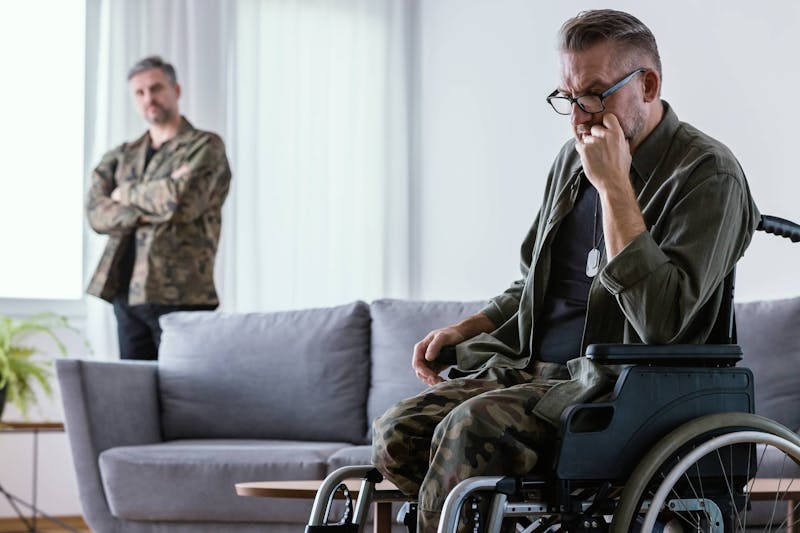 If you are a veteran that was injured in the line of duty, then you deserve to seek compensation for what you suffered. VA disability is the main system through which veterans are able to get compensation for their injuries. Social Security Disability Insurance (SSDI), on the other hand, is designed to allow workers in general to seek compensation for their disabling conditions.
Both of these systems are designed to help those who are disabled. However, they each work differently, and there are different requirements necessary to be able to collect either VA disability or SSDI.
Today we are going to look at what it takes to collect either VA disability or SSDI. We will also discuss the differences between these two disability benefit programs. Then, once we know what it takes to collect benefits, we'll look at whether collecting VA disability prevents you from also collecting SSDI.
What is Required to Collect VA Disability?
In order to be eligible for VA disability benefits, a number of requirements must be true. The first two that have to be true are:
You have an illness or injury that affects your mind or body.You served on active duty, active duty for training, or inactive duty training.
Both of those points have to be true. If they are not true, then you simply cannot collect VA disability benefits. However, there are more criteria that have to be met.
In addition to the two points above, one of the following must also be true:
You got sick or injured while serving in the military, and that illness or injury can be linked to your service.

You had an illness or an injury prior to joining the military, but your time in the service made the condition worse.

You have a disability that is due to your active-duty service, but the condition didn't appear until after you finished your time in the service.
VA benefits are granted for help with the following conditions (though this is not an exhaustive list):
Anxiety

Breathing problems stemming from a lung condition

Cancers caused by toxic chemicals you came into contact with as part of your service

Depression

Chronic back pain

Severe hearing loss

Posttraumatic stress disorder

Traumatic brain injury

Ulcers

Scar tissue

Loss of range of motion

If approved, VA disability benefits come in the form of a monthly tax-free payment. The size of the payment is going to be dependent upon the extent of your disability. VA disability benefits use a percentage system, whereupon a person's conditions are totaled to come up with a percentage that they are disabled. The higher the percentage, the more disability benefits would be paid out each month.
What is Required to Collect Social Security Disability Insurance?
In order to receive Social Security Disability Insurance benefits, you must have a medical condition that meets the Social Security Commission's strict definition of disability, as well as have worked a certain amount of time at jobs that are covered by Social Security.
Thankfully, most jobs are covered by Social Security. If you are being paid through legal channels, then chances are good that your work would count. If you are being paid under the table, then that's a different matter entirely.
An individual must have a certain amount of work credits, typically forty credits. A person can earn up to four credits a year. Each credit is gained by earning $1,510 in wages. However, earning more does not mean you'll get more credits. Once you've earned $6,040 in a year, you will have earned all the credits that you can get in that year.
The strict definition of disability that SSDI uses requires the following to all be true:
You are unable to work or engage in substantial gainful activity due to a medical condition.

You are unable to do the work you previously did or adjust to new work because of your medical condition.


Your medical condition is expected to last for at least one year or result in your death.
This definition of disability is far more strict than many definitions you'll find out there. However, there are still quite a few disabilities that would see a person approved for SSDI.

It's important to note that there are special rules in place for certain situations. For example, younger individuals don't need to earn as many credits as the average person. This is due to the fact that younger individuals have less time to work overall; therefore, they'll have fewer credits than the average person. Another alternative rule allows blind individuals to earn more money each month and still receive SSDI benefits compared to the average person.
Does Collecting VA Disability Prohibit You From Collecting Social Security?
Thankfully, collecting VA disability does not prevent you from collecting Social Security benefits. This means that you are able to apply for both types of benefits and to receive both types of benefits.
The main thing to keep in mind, however, is that each system works differently. We have already explored this above, but it is important to reiterate. You cannot apply for VA disability and Social Security disability benefits at the same time. You must submit a different application for each type of disability benefit you are looking to collect.
However, getting VA disability benefits may help to speed up the SSDI process. VA disability benefits require that your disabilities are scored as a percentage. If you are considered to be 100% disabled, it may help to expedite the application process.
Should I Contact an Attorney About Disability Benefits?
Getting disability benefits should be easy. Unfortunately, it can actually be frustratingly tough to get approved. The systems you have to work through to get benefits aren't particularly straightforward, and it can be difficult to determine what information you have to send in with your application.
One way to make the experience easier is to work with a disability attorney. A lawyer with first-hand knowledge of how these systems work is going to be able to help you put together a much more comprehensive and compelling application since they understand what it is that the VA or the Social Security Commission wants to see in an application. Alternatively, if you have been denied benefits, then an attorney can help you to appeal the decision.